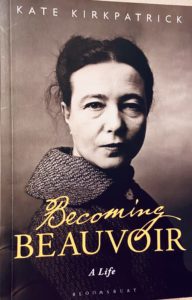 "Much ink has been dedicated to the meaning of that sentence, to what it means to 'become' a woman. This book is dedicated to the question of how Beauvoir became herself" (pp. 3-4).
Waiting for Beauvoir
"Unfinished business" by Gordon Bennett is one of the most poignant, political, painful and passionate exhibitions I have seen. The works perform the on-going becoming of an artist living in-between cultures, perceptions, meaning-making and a world he saw as desperately unjust. Bennett wanted to paint but one piece that would revolutionise the way that people thought about all of those we call other in the world and hoped his art would carry such social change making potential. He died too young and still waiting.
It was Bennett's images that carried my thinking as I wandered from the Gallery of Modern Art on one side of Maiwar to the other. My feet carried me to a familiar place, Dymocks bookshop in Queen Street Mall. I had not intended to go there, my shelves are already bursting with books whose pages are filled with words crying out to be read.
And then there I was. Standing in the "Philosophy" section and looking at Kate Kirkpatrick's new biography, Becoming Beauvoir. Writing about Beauvoir recently, I accidentally came across the biographical work of Kate Kirkpatrick in an interview with her titled "The best Simone de Beauvoir books" where she mentioned the forthcoming publication of this work. Her way of speaking about Beauvoir – as a personal, political and philosophical friend – intrigued me and I have been waiting ever since to find a copy of this book to make it's way to my shelves. I hold onto my recent purchase with anticipation, hope, expectation and urgency – my writing with Beauvoir touches on the ways in which she too, like Bennett, lived her life inbetween, watching and writing about the world within and without. The waiting to begin Becoming Beauvoir is over and now all and everything that remains is to think and wonder with these words about her.