"What I really mean is: How will I stay alive, if I stop writing?" (
2020
)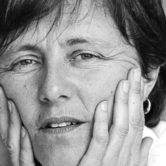 Helen Garner
Australian novelist and diarist
Writing between the lines: A gift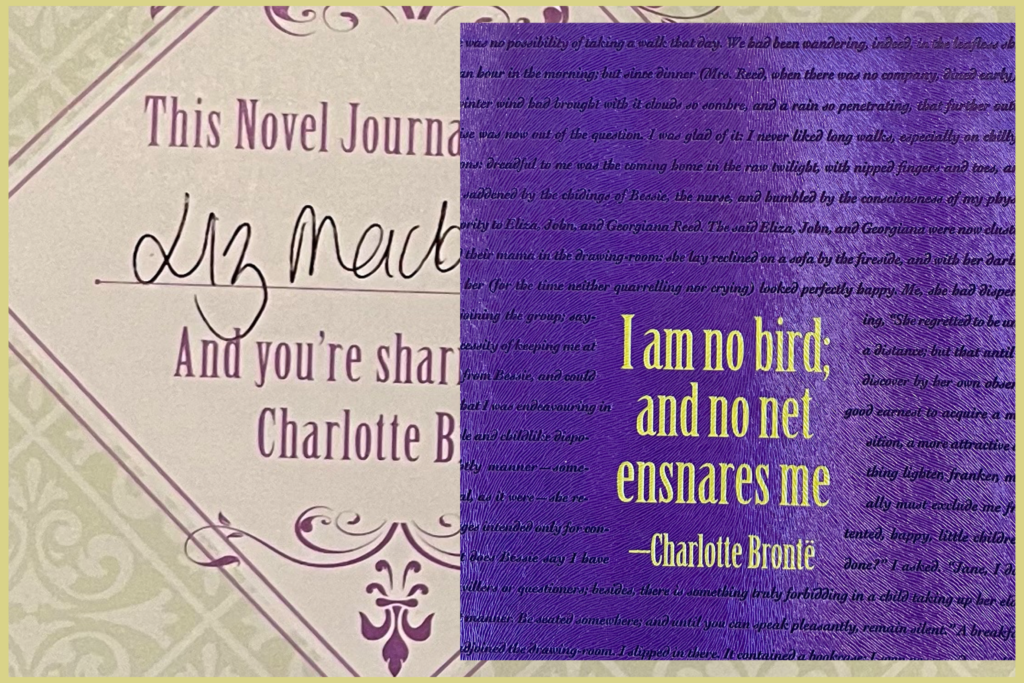 There is a photo of me nursing Lucy pinned to the inside cover of my purple diary. The two of us are sitting outside in an alfresco café on a wooden bench holding hands. The sun is shining brightly, and we are both smiling, although only one of us has a milk bubble playing around our lips. This picture makes me think that perhaps Kittie gifted me this Jane Austen novel journal. Years ago, before Lucy was born, Kittie and I attended a two-day workshop on "Creative journal writing: The art and heart of reflection" with Stephanie Dowrick in Sydney. The heartlines in my hand had already begun to beat in time upon reading the title and the possibility that writing a journal may change your life shared as a promise at the beginning of the first chapter was all I needed to begin my journal writing practice anew. Kittie knew I was an avid diarist but what she probably did not know was that I had never read Jane Eyre. I would like to think I smiled warmly and thanked her for the gift which invited me to "write between the lines of some of the best literature in the world". Published by Canterbury Classics and fashioned with colourful endpapers, edges and elastic bands, novel journals provide "fuel for the next literary masterpiece", add a "sense of tribute" and bring an element of fun to the documentation of daily life.
These are the words that my memory suggested as true
The period in my life this purple diary holds did not live up to the publishers promise of greatness, gratitude, or great frivolity, but the incidents that inform my writing most certainly did irrevocably change the course of my life. Perhaps I should have known that something was about to go astray; from the very first page I was not at all sure about writing in this journal. The idea of scribbling over someone else's words seemed inappropriate; I felt like an uninvited and unwelcome interloper in Charlotte Brontë's far more sophisticated and serious novel prose. I reposed my discomfort by imagining that perhaps Charlotte's story of an orphaned girl who refuses just as well as she submits to repressive social codes of femininity and respectability, contains exactly the kind of strong words I needed to withstand the wen and warp of relentless cruelty, anguish, and sorrow that in turn invaded my life.
It's hard for me to remember that before I began writing in this purple diary, I used to sign my name at the end of each entry with a flourishing cursive capital letter L and a heart to punctuate the end that would never agree to a full stop. I cannot bring myself to repeat this loving gesture of completion—even now—my writing is cut short with a harsh scrawl and a hashtag style series of cuts intended for respair when nothing else can. I try to hide these scars, but I am told they will always be there; the best I can do for now is hold them. There are some stale and rotting things sequestered away in the pages of this purple diary—things that shudder and shatter my soul with horror and hate and guilt and shame and disgust and pain and grief that I will never be able to secrete. Yet, the words that record the day it happened and those immediately after, are surprisingly sound—factual even. These are the words that my memory suggested then as true; a little like Jane Eyre when asked to share her the story of her sad childhood with Miss Temple, there is nothing added and nothing exaggerated (Brontë , 1847, p. 77).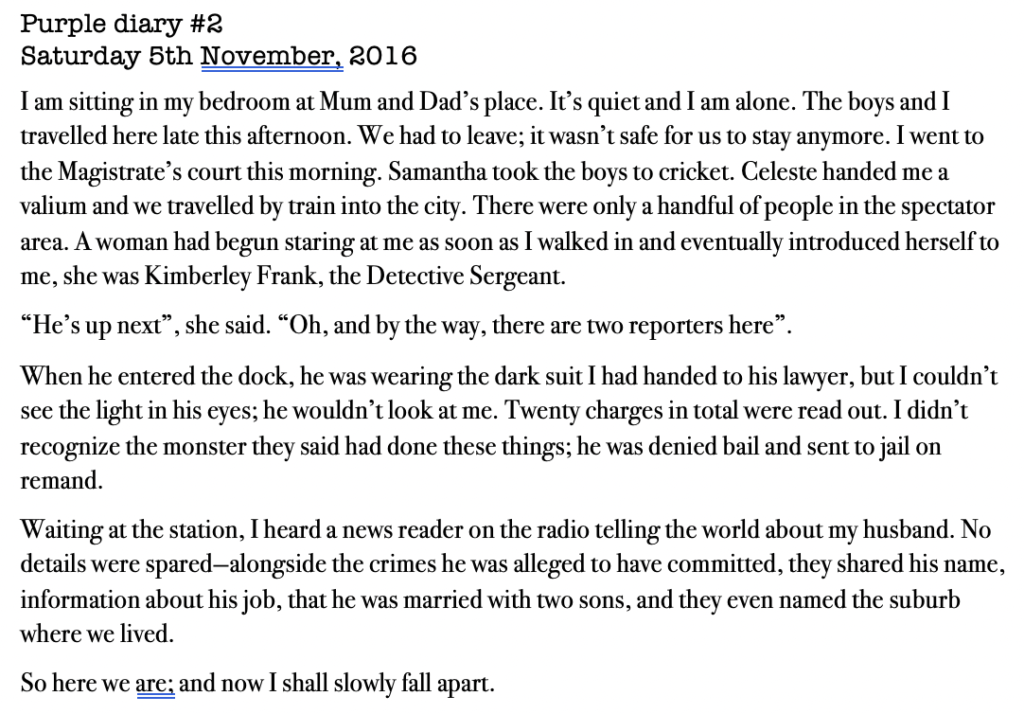 Both sides now
I listened to a lot of Joni Mitchell after that. A glass of red wine in one hand, a handkerchief from my Dad in the other, I laughed hysterically along with "Both sides now" recalling life's illusions. "So many things I could have done, but clouds got in my way", Joni shrugged, and I sang loudly along with her. I am not sure how I feel about this purple diary; breathing the words in and out burns like a pestilent mist, and sometimes I worry that when it is finished its bloody blighting of body and brain, my soul will be next. Perhaps words in diaries are a way for me to put on a mask and simply inhale then exhale on repeat until living again becomes possible. I am not sure how I feel about writing about this purple diary, about what I want from it as a writer and what I want for readers. I did not write about this purple diary for condolence, sympathy, or pity, but to tell my personal version of this very public story. Whether I like it or not, this story is already out there—the media made certain of that, and if I don't take control of my own telling of it, then sure as hell they or someone else will. Dorothy Allison says that she wants "everything as a woman and a writer, but most of all a world utterly changed by [her] revelations" (1994, p. 180) but like Helen Garner (2021), perhaps all I am looking for is that these words touch places where we have all been. Today he is back in court again. I tried not to look but I saw the listing on the Brisbane Court District Court sittings this morning. I can't help it and I know I shouldn't worry but I must—for the boys, I have to keep them safe. I fumble around for my mask. I haven't heard from the police, and they promised they would give me plenty of warning if we needed to pack up suddenly and leave again.
I turn to the final page of my purple diary and see a post-it note from Justine pinned there. The words "Blue skies from now on" are written in grey lead pencil and embraced within a large heart. Returning to and turning the words in this purple diary around in this moment feels like a way for me to step outside into the world and stand in the sun amidst the sky above and the dirt below, even if it is only for a little while.
References
Allison, D. (1994). Skin: Talking about sex, class and literature. Firebrand Books.
Brontë, C. (1847). Jane Eyre. Smith, Elder & Co.
Garner, H. (2020). The invisible arrow: How does one stop writing? Griffith REVIEW, (68), 10-17.
Garner, H. (2021). I always liked my diary much better than anything else I wrote. The Guardian, 10 November.